The reason I went to Sapporo was because it was near the home of Nikka's first whiskey distillery.
You must excuse me as I write this, but I may interchangeably refer to Nikka's whiskey as scotch. Obviously it isn't "scotch" not having been aged in Scotland for 3 years and one day, however it would appear at least some peat comes from Scotland, so… they're not messing around. Ultimately, when it comes down to it, "whiskey" has a pretty broad range of flavors, and calling it scotch helps narrow it down, because, well, Nikka's whiskey tastes like scotch.
On my way there it became quickly apparent that things were going to be even closer to what seems like home. Shores were rocky, the sky was mostly cloudy, with just hints of blue coming through. Arriving at the station also told me that this was not a big place. Yoichi is a fairly small town, with the tallest buildings being the bookstore and the "Phachinko" place, both of which were on the street coming off the train station.
About 200 meters, directly in front of the station, beyond those two buildings on the sides, the street Y'ed. At the Y, on the other side of the street, under a clearing of sky, I saw what I was looking for.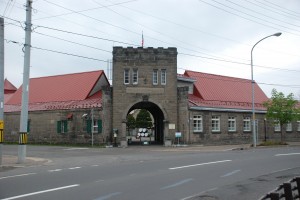 Nikka, Japanese for Scotch (not literally).