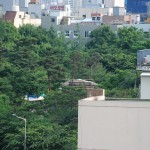 This gallery contains 216 photos.
Dropbox version.
Funny story. I ended up staying in the "shady" part of Osaka. Hell, one of the worst parts in Japan, I guess. I didn't know ahead of time, the reviews for the place I stayed were reasonable, and there was a zoo and a tower within walking distance, and it was only a few stops away from Universal Studios, couldn't be too bad, right? Continue reading →
The morning after Nara, I had a bit of time before I could go to the hostel-hotel thing I was staying at in Osaka, as such I decided to wonder around Nagoya in the daylight for once.
After checking out of the hotel, I then left my bags with the front desk. That was a nice change. One I would repeat in Osaka and Hiroshima as well, which made sense to me, as I had such a limited time in each location that to waste those hours between check out and check in time would have been quite foolish. Continue reading →