On the 16th I worked on getting caught up, getting my initial train and Sapporo posts up.
I met Michael who in theory has been waiting weeks for me to mention him, and is likely already back home after spending time with is father in Tokyo. He did something quite cool, he rode a bike from the Southern tip to the Northern most tip of Japan. When we met he had about 2 days of riding left from Sapporo. Made me wish I had spent at least a little time outside the cities… but alas.
For my last night in Sapporo I once again splurged and had a second bowl of soup curry, this time at a 19 out of 40 on the spicy scale. Much better than a 9. (Soup Curry photo set.)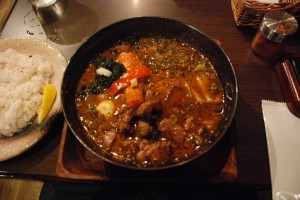 The 15 vegetable one the night before was prettier.